Crisis
On the weekend of December 18, 2021, a tropical depression made landfall in Peninsular Malaysia, bringing three days of torrential rainfall that caused severe floods in large swathes of the country. The floods killed at least 39 people and displaced more than 68,000 residents in eight states.
The disaster is one of the worst ever recorded in the country and was declared by officials as a "once in a century" disaster. 
@All photos by Samsul Said
Campaign
Responding to urgent calls for aid, AirAsia Foundation and BigPay initiated a donation drive to support rebuilding needs of affected communities. Donation boxes are carried on board all AirAsia Malaysia flights from Christmas Day, Dec 25, 2021, through to Jan 23, 2022. Concurrently, donors using android devices are also invited to donate via the BigPay app until Jan 31, 2022 . To donate via direct bank transfer, please contact foundation@airasia.com.
AirAsia Foundation is also inviting registered non-profit organisations with a track record in relief and rehabilitation work to apply for project funding. The selection process will prioritise proposals for repair of damaged infrastructure or such as community halls, schools, clinics, bridges or sanitation facilities. Proposals for disaster preparedness programmes are also welcomed. 
Interested applicants may apply here.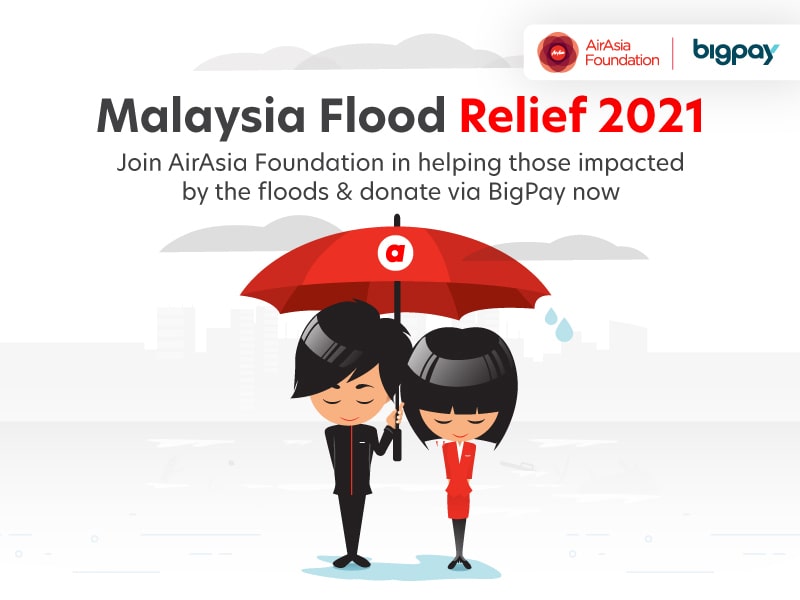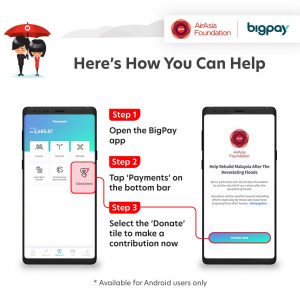 Lead Partner

BigPay is an ASEAN fintech company with proud Malaysian roots founded in 2017.  The company is committed to democratising financial literacy, accessibility, and wellbeing in the region by providing accessible, transparent, simple and secure digital financial services. From payments to international transfer, credit, micro-insurance and smart budgeting, the goal is to drive sustainable change for consumers and businesses across Southeast Asia. 

FACTBOX
LOCATION

Peninsular Malaysia
CAMPAIGN PERIOD

Dec 22, 2021 - Jan 23, 2022

Flights & Cargo Sponsorship


Gallery