Kotagede Conservation Through Enterprise
Objective
Incubate community enterprises that encourage conservation of Kotagede historical zone
Empower and train local youth to lead community enterprises
Challenge
Kotagede is the site of one of the oldest walled cities of Java, with its establishment dating back to the 16th Century Mataram Empire. Within the walled city are ancient bathhouses, temples, tombs and traditional houses. The area is also home to artisan groups such as silversmiths and gamelan musicians. However, the heritage of Kotagede has been greatly eroded by intensified development and weakening generational links between community members. Economic hardship has also affected the area as many traditional houses are sold or broken up. Worsening the situation is the damage suffered by old structures during the 2008 Yogyakarta earthquake and 2010 volcanic eruption of Mount Merapi.
To develop heritage tourism potential in Indonesia, an alternative solution is needed to combine the resources of community groups and tourism business actors. If successful, managed conservation of Kotagede will help realise its 'market value' in the context of cultural tourism and serve as a model for other old city restoration projects in ASEAN.
Social Enterprise
With funding from AirAsia Foundation, Arkomjogja kicked off the initiative by undertaking an extensive mapping exercise of Jagalan village, one of five villages that make up the core zone of the Kotagede Heritage Site. Conducted with the participation of local youth group Karang Taruna, the exercise gathered accurate geographical and demographic information about the area and its residents.
From these findings, the team developed the Jagalan Tlisih Heritage Walks to enable youth guides to lead visitors through the village, introducing the area's history, cultural points of interests and artisan clusters. Income earned from the tours would go into funding continuous conservation activities and awareness creation.
Jagalan Tlisih Heritage Walks now take place every Sunday from 10am to 12pm. Tickets are available from jogja@arkom.co.id.
Organisation
Arkomjogja is an open platform of architects and professionals working with grassroots communities in slums, disaster-prone areas and heritage sites to improve their living conditions. The group was first conceived to work in post-disaster reconstruction after the Aceh Tsunami of 2005, followed by rehabilitation projects in Western Sumatra and Yogyakarta. In 2009, Arkomjogja adapted its participatory community planning approach to slums-upgrading using locally available materials such as bamboo and wood. Through its work, Arkomjogja has organised and trained poor communities in Jakarta, Bandung, Yogyakarta, Solo, Surabaya, Makassar, Kendari and Labuan Bajo. In 2013, Arkomjogja launched its pilot initiative in heritage conservation at Kotagede with a social enterprise grant from AirAsia Foundation. Formally registered in 2012, Arkomjogja is part of the Community Architects Network covering members from 19 countries in Asia.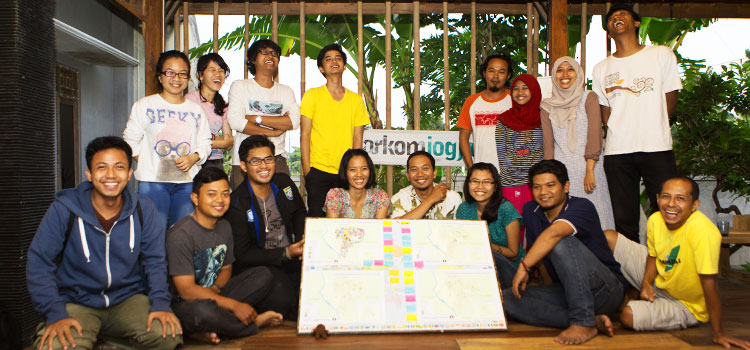 Other Partners & Contributors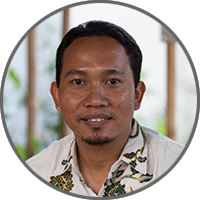 Team Leader
Yuli Kusworo
Yuli is an architect and general coordinator of ArkomJogja. He was instrumental in co-founding the group after the 2005 Aceh Tsunami to help post-disaster communities rebuild better. Yuli went on to lead ArkomJogja to undertake slums-upgrading projects across Indonesia by empowering poor communities to take ownership of changes in their living areas. His community-driven approach to architecture has been recognised by numerous awards, including the 2015 Youth Innovator Award in Indonesia.

FACTBOX
LOCATION

Yogyakarta, Indonesia
GRANT PERIOD

Jul 2013 – Mar 2015
GRANT AMOUNT

USD 45,000
BENEFICIARIES

240 Families

Heritage

Youth