Tsaa Laya Premium Teas
Objective
Improve production capacity of Tsaa Laya herbal teas
Create livelihood opportunities for vulnerable rural communities facing income loss after being relocated from Manila to the countryside due to natural disaster and city development
Develop tea livelihood for indigenous peoples as an incentive to reforest their ancestral mountains and conserve world heritage rice terraces
Challenge
According to the Global Climate Risk Index, the Philippines is ranked as the country most affected by climate change. Among the most vulnerable are informal settlers in Metro Manila, some of whom had to be relocated to public housing areas in the countryside after their homes were destroyed by storms and typhoons.
For affected families, although their shelter needs are provided for under the resettlement scheme, they also have to contend with losing their livelihoods, primarily women who have to remain at home to care for their children while their husbands return to the city in search of employment. Prolonged separation has further contributed to the disintegration of the family unit, leaving unemployed mothers to raise their children alone.
Meanwhile, in the mountainous regions of the Ifugao region, the Philippines' famous Unesco World Heritage-listed Banaue Rice Terraces are also under threat as indigenous communities whose ancestors created these wonders, face their biggest challenge yet in maintaining these terraces and their heritage rice farming practices. Income pressures have left some indigenous families with little choice but to abandon their ancestral terraces.
Social Enterprise
Kapwa Greens trains and employs mothers at the Calauan Resettlement in Laguna and indigenous communities in the Ifugao region of the Philippines to cultivate high quality local herbs as a way of earning a living wage. Founder Jamir Ocampo began by engaging unemployed mothers at the Calauan Resettlement to cultivate herbal plants. This later expanded to include the full tea production chain from harvesting to handcrafting its Tsaa Laya's signature herbal tea blends.
While sourcing for unique tea accents, Kapwa Greens also began working with two indigenous people's communities in the Ifugao and Sagada regions of northern Luzon. The tea livelihoods provide much needed supplementary income for these remote communities, easing the pressure for indigenous peoples to abandon traditional rice farming for low-skilled jobs in the city.
Tsaa Laya teas are now sold at multiple outlets in the Philippines, as well as at AirAsia Foundation's Destination GOOD shop on rokki.com and onboard AirAsia Philippines flights. However, due to limited production capacity, Kapwa Greens is having difficulty addressing additional export orders for Tsaa Laya teas.
To support the growing business, Kapwa Greens receives funding from AirAsia Foundation to
Establish a tea farmers' cooperative
Provide technical training in good manufacturing practices, food safety, organic farming and agri-tourism, IT-based communication, business management and resource mobilisation, product development and innovation
Procure of additional machines and facilities to improve production output, i.e. dehydration room, nursery, moisture analyser, and herb cutters
Test new markets and innovate products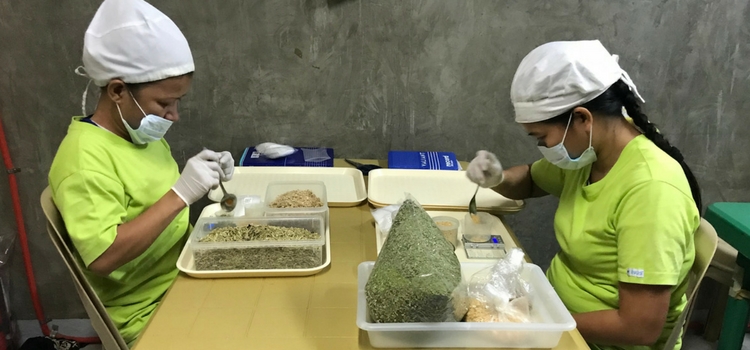 Organisation
Kapwa Greens was founded in 2014 with a mission to elevate local herbs as modern tea ingredients while providing new livelihoods for climate refugees. To market its herbal teas, Kapwa Green developed Tsaa Laya as the first premium Philippine tea brand to emphasise the medicinal qualities of its tea ingredients over their culinary value. The social enterprise currently employs 12 full-time mothers and 18 part-time staff.
Tsaa Laya teas are designed for the premium market through the following features:
organically grown herbs
signature blends which mix traditional herbs with other locally grown accents
unique processing method that secures the essential flavours and aroma of the herbs, dispensing with the need for artificial flavourings
premium packaging to best preserve tea flavours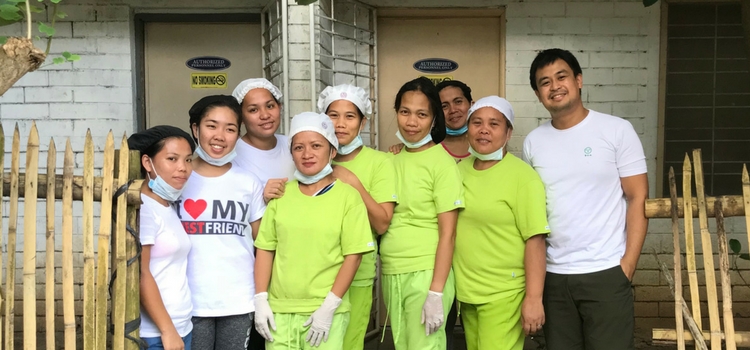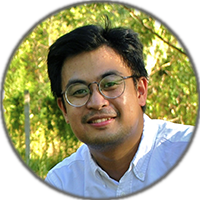 Team Leader
Jamir Ocampo
The Tsaa Laya idea of tea livelihood project started when Jamir was assigned to monitor and report the welfare and livelihood concerns of those urban poor who were relocated from Metro Manila to Calauan Resettlement in Laguna. Passionate for tea, he went to Japan and brought knowledge back to the Philippines to help empower the climate change refugees.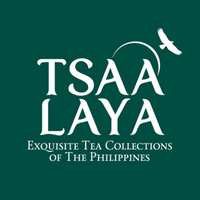 FACTBOX
LOCATION

Laguna & Ifugao, Philippines
GRANT PERIOD

Jul 2018 - Sep 2019
GRANT AMOUNT

PHP 950,000
BENEFICIARIES

100 Families

Poverty Alleviation

Women