Soksabike Tours
Objective
Provide vocational training and employment to local youths
Introduce visitors to everyday life experiences in rural Cambodia
Imbue pride in local culture while enabling local families to earn an income from community-based tourism
Challenge
Economic growth in Cambodia is focused mainly on its two main cities of Phnom Penh and Siem Reap, the gateway to the world famous Angkor Archaeological Park. As a result, few jobs are created for young graduates outside of the two major cities, leaving young graduates with few options but to move to urban centres or neighbouring countries. This pressure to migrate will create an unsustainable urban-rural divide unless job opportunities are created in smaller towns and rural areas where more than 70% of the population still reside.
Social Enterprise
Soksabike is based in Cambodia's second city, Battambang, where hundreds of students who graduate each year struggle to find meaningful jobs. Starting 2010, the social enterprise began training local youths as cultural and educational bicycle tour guides. With initial capital from two crowd-funding campaigns, the business kicked off to a modest start, eventually growing to a 20-strong team, including 9 guides, and benefiting 20 families on four bike trails. The business enjoyed its strongest growth in visitor numbers last year, up over 35% from the previous year.
To build on this momentum, Soksabike has been awarded a social enterprise grant to expand its business through four areas:
Developing new walk and cycle trails themed on Battambang's Buddhist art history and French colonial architecture
Enhancing guide training to include first aid and field visits to similar sustainable travel initiatives in Cambodia
Launching a new marketing campaign targeting online and offline channels
Repairing current bike fleet and improving safety elements, including adding new safety helmets and bike lights
These measures aim to increase the income of current guides and participating households through higher number of visitors, and enable new graduates to be trained and employed as additional part-time guides.
Organisation
Soksabike was founded by a local initiative called Kinyei in 2010 to provide meaningful training for local youths in hospitality and responsible tourism practices. The social enterprise employs local university graduates and trains them to administer and manage the business. The emphasis of the tours are on educating guests on the realities of life in rural Cambodia and ensuring that their visits make a positive impact on local communities.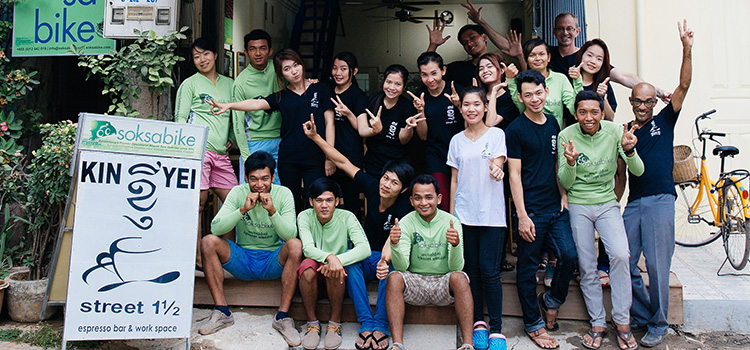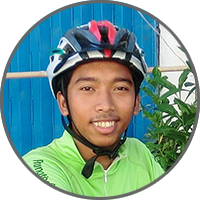 Team Leader
Makara Chea
Makara is the Lead Guide for Soksabike Tours. An English Literature major at Build Bright University, he works part-time to help fund his studies. While away from his home village of Takoy, Makara lives at Battambang's famous Wat Povil. Be sure to ask him more about this time-honoured Buddhist tradition.

FACTBOX
LOCATION

Battambang, Cambodia
GRANT PERIOD

Sep 2016 - Aug 2017
GRANT AMOUNT

USD 7,000
BENEFICIARIES

20 staff, 18 families

Poverty Alleviation

Youth